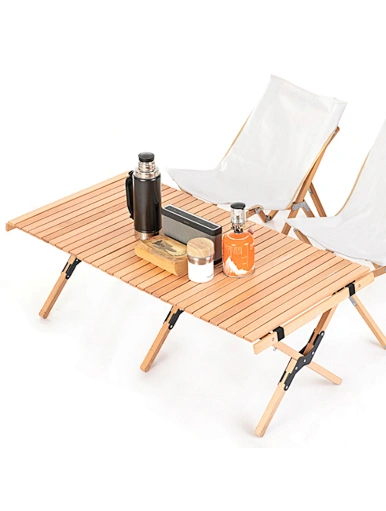 Wooden Roll-up Camping table
price
US $29.00 - US $31.90 / pieces
Wooden table Material:Pine Weight:11.7lbs/5.3kg Package:1pc/carrybag Product size:90x60x41cm/93x24x13cm
【SOLID WOOD MATERIAL】The outdoor picnic table are made of high-quality hard wood. Outdoor camping table is sturdy and durable with wood slat tabletop and strong bearing capacity. The wood material is varnished and the smooth finish allows it to be wiped clean easily. All the hardware accessories of the table are rustproof.
【EASY TO ASSEMBLE AND DISASSEMBLE】The wood roll up portable table includes two parts: 1*wood slat table top and 1* wood frame with 6 legs. Step1: Expand the wooden rack. Step2.Stretch the tabletop and fasten the two small wooden tips at both ends into the bracket. Taking it apart is just as easy, just detach the tabletop and the frame then store it away in carrying bag.
DINE ON THE GO — This lightweight, foldable table lets you set up a dining or entertaining space outdoors, hassle-free
DEPENDABLE DESIGN — Built with a stylish, bamboo top, this table is easy to clean and gives you a durable surface for eating, entertaining and more
No matter the occasion, our camping kit is a camping gear must have for the adventurer in your life.
Features

Technical Specs

The outdoor picnic table are made of high-quality hard wood. Outdoor camping table is sturdy and durable with wood slat tabletop and strong bearing capacity.
The wood material is varnished and the smooth finish allows it to be wiped clean easily.
All the hardware accessories of the table are rustproof.

    Material
Pine

    Size

90x60x41cm/93x24x13cm

    Weight

11.7lbs/5.3kg

    Package

1pc/carrybag 

   Customize service

Available