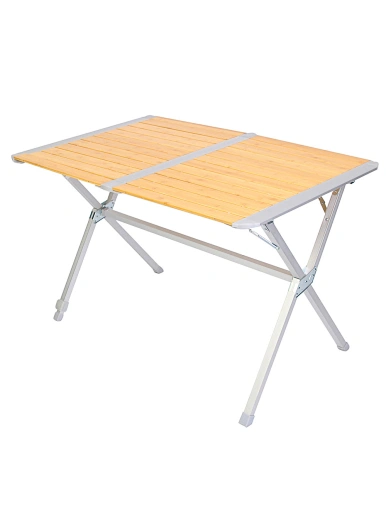 Roll Up Slatted Camping Table
price
US $37.00 - US $40.70 / pieces
Roll Up Slatted Camping Table Material:Aluminum Tube with Oxidation+bamboo top Weight:15lbs/7kgs Packge:1pc/carry bag Product size:110x72x70cm/19x11x109cm
* The camping table can accommodate 4 - 6 people - ideal as a garden table, balcony table or party table for guests.
*The solid table has a load capacity of 30 kg. Against annoying wobbling, a table leg can be adjusted, so you can easily correct height differences.
*The foldable camping table is easy to assemble. When you no longer need it, you can quickly fold it up and store it in the included bag.
DINE ON THE GO — This lightweight, foldable table lets you set up a dining or entertaining space outdoors, hassle-free
DEPENDABLE DESIGN — Built with a stylish, bamboo top, this table is easy to clean and gives you a durable surface for eating, entertaining and more
No matter the occasion, our camping kit is a camping gear must have for the adventurer in your life.
Features

Technical Specs

This lightweight, foldable table lets you set up a dining or entertaining space outdoors, hassle-free
Built with a stylish, bamboo top, this table is easy to clean and gives you a durable surface for eating, entertaining and more
No matter the occasion, our camping kit is a camping gear must have for the adventurer in your life.

    Material
Aluminum Tube with Oxidation+bamboo top

    Size

110x72x70cm/19x11x109cm

    Weight

15lbs/7kgs

    Package

1pc/carry bag

   Customize service

Available