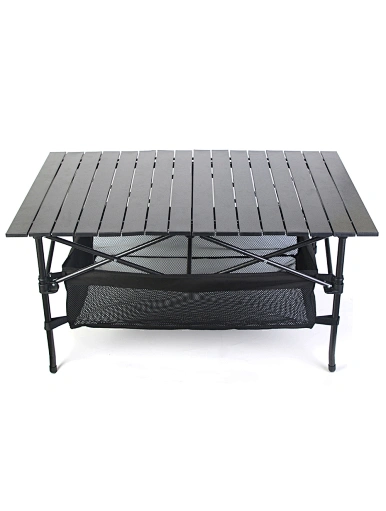 Heavy Duty Roll-Up table with storage bag
price
US $18.30 - US $20.13 / pieces
Heavy Duty Roll-Up table with storage bag Material: Aluminum alloy
Weight:10.12lbs/ 4.6kgs
Package: 1 pc/ carry bag Product size:95x55x50cm/68x25x14cm
*Multipurpose Folding Table Provides a Handy Surface for Grilling, Dining, Resting Bar Drinks, Playing Cards or Organizing Supplies– Great for Camping, Backpacking, Tailgating, Backyard Parties & Beyond
*Durable, Reinforced Brackets Hold the Tabletop Together—No Complex Assembly or Tools Required! Rustproof Legs & Waterproof Surface Provide Reliable All-Weather Performance for Many Years to Come.
*Folds into the included carry bag. Store in a car, canoe, or wherever you may need it. You can assemble and roll up the collapsible table quickly, and store in a free carrying bag.
DINE ON THE GO — This lightweight, foldable table lets you set up a dining or entertaining space outdoors, hassle-free
DEPENDABLE DESIGN — Built with a stylish, bamboo top, this table is easy to clean and gives you a durable surface for eating, entertaining and more
No matter the occasion, our camping kit is a camping gear must have for the adventurer in your life.
Features

Technical Specs

Folds into the included carry bag. Store in a car, canoe, or wherever you may need it. You can assemble and roll up the collapsible table quickly, and store in a free carrying bag.
Multipurpose Folding Table Provides a Handy Surface for Grilling, Dining, Resting Bar Drinks, Playing Cards or Organizing Supplies– Great for Camping, Backpacking, Tailgating, Backyard Parties
No matter the occasion, our camping kit is a camping gear must have for the adventurer in your life.

    Material
Aluminum alloy

    Size

95x55x50cm/68x25x14cm

    Weight

10.12lbs/ 4.6kgs

    Package

1 pc/ carry bag

   Customize service

Available